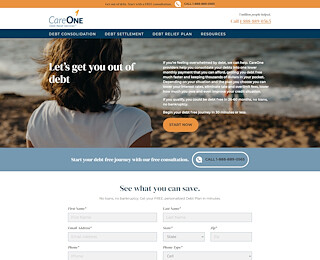 Don't sign on with the first debt consolidation company that tells you they can help you become debt free. Take some time and consider your options while comparing programs and plans to eliminate debt. Add CareOne Debt Relief Services to your list, then call us for information about our solutions. You may be feeling overwhelmed by your debt situation but the fact is you can learn how to become debt free in just 30 minutes or less when you consult with one of our agents.
5 Tips For Choosing a Debt Consolidation Company
1. Work with a reputable debt negotiator who can help you reduce the total amount of debt you owe. Having less debt to pay off means you'll be that much closer to reaching your goals. At CareOne, we employ highly trained agents who will work with your creditors to reduce the interest rate on your debt, eliminate late fees, and lower your balance, so you can clear your debt slate quickly.
2. Read reviews left online for debt consolidation companies to see how well each of your prospects is meeting the needs of clients. Keep in mind that not all debt consolidation agents are created equal. We have a positive rapport with our clients at CareOne Debt Relief Services; feel free to check our credentials before finding a solution to consolidate debt.
3. Find out how long your consolidation agent has been working in the industry. Newcomers to the debt consolidation field may not have the skills or expertise necessary to deliver favorable results. CareOne has helped more than 5 million people get out of debt and go one to enjoy a brighter future with financial issues in their past.
4. Take some time to interview multiple debt consolidation agencies to determine the level of customer care you'll receive as a client. It shouldn't take more than a minute or two on the phone with each prospect to make a decision based on your treatment as a caller. We proudly offer a free 30-minute consultation at CareOne which will give us a chance to answer all of your questions.
5. Know what you're getting into when you choose debt consolidation as a remedy for high interest debt. Explore the free resources found at CareOne online, including information about our debt relief plan. If you're eligible for our program, you could be debt-free in 26-60 months.
Rated Best-In-Class Debt Consolidation Company
There's a reason why so many clients around the world refer to us as the best debt solution company- we genuinely care about each and every client and offer an easy way out of debt that doesn't include restricting your cash flow or doubling up on credit card payments.
With lower interest, no more late fees, and less of a balance to worry about, you'll be on your way to becoming debt free in less time than you think. Request more information by calling 888-889-0565 and asking about our debt consolidation plan.